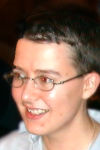 Computer Games and Digital Textualities
A Trip Report by Anja Rau
Computer Games and Digital Textualities was held at the IT University of Copenhagen, Denmark, on 1-2 March 2001. The first conference worldwide to look at computer games from an academic angle, CGDT 2001 drew just over 160 participants. Its inter- and trans-disciplinary tone was set by the host: as conference chair Mads Tofte emphasized in his opening speech, both the department of Digital Aesthetics and Communication and the University of Copenhagen actively seek synergies among the arts, sciences, and industry.
The four keynotes framed the current discourse on digital, ludic texts as oscillating between market and academia, text- and game theory, artificial intelligence and literature. Thomas Jakobson (IO Interactive, Denmark) introduced IO Interactive's latest action-adventure, Hitman - Codename 47, which features characters and objects equipped with interdependent properties and "senses" that let the figures move almost freely within the limits of the game's dramaturgic parameters. In contrast to this highlight of technical realizability, Selmer Bringsjord (Rensselaer Polytechnic Institute, US) posed the question whether it is at all possible to build dramaturgically compelling computer games. Bringsjord reduced this issue to a traditional approach to literature and anticipated artificial intelligence that could - as both story-master and character - reproduce this approach. Marie-Laure Ryan (independent scholar, Colorado, US) took upon herself the thankless task of reclaiming narratology for game theory. Her claim - that humans structure their experiences of the world narratively - was one of the conference's most hotly-debated issues. Espen Aarseth (University of Bergen, Norway) offered an overview of traditional computer games as well as current approaches and set a motto for the conference with a (1968!) quote from Jacques Ehrmann: "The time has come to treat play seriously."
The program was loosely organized in four parts, the first day concentrating mainly on games while the second dealt with digital textuality more generally. In the first session, concepts from ludology and game theory were introduced by Aki Järvinen (Icon Medialab, Finland) with "A Doom with a View: Introducing Ludological Premises" and by Susana Pajares Tosca (Oxford Brookes University, UK/University of Madrid, Spain) with "Role-playing in multiplayer environments. Vampire: The Masquerade Redemption." From these presentations it seems that, in contrast to earlier philosophies of digital literature, even multiplayer games do not dismiss the author. Rather, they elevate and re-empower her.
The second session addressed time in computer games. Over the last few years, temporality has become a central issue of digital literature (and theory) and computer games seem to be capable of addressing contemporary concepts of time far more adequately than traditional text-forms can. In keeping with this theme, Anja Rau (Blue Mars, Germany) presented "Reload - Yes/No - Time in Graphic Adventures," while Jesper Juul (IT University) presented "Play time, Event time, Themability," and Markku Eskelinen (Finland) discussed "Aspects of time in Computer Games."
Day Two began with analyses of computer games from the points of view of several academic disciplines. Ulf Wilhelmsson (University of Copenhagen, Denmark) presented "What's in those video games?," which dealt with cognition and embodiment. In theater science, Ragnhild Tronstad (University of Oslo, Norway) presented on "MUDs, performance and theatricality." Frank Schaap (University of Amsterdam, The Netherlands) introduced sociological concerns with "The Social Life of the Game," in particular the myth of free choice of gender on the internet. Raine Koskimaa (IT University) introduced two new webfictions by hyperfiction grandmasters Michael Joyce and M.D. Coverley: The Sonatas of Saint Francis (Joyce) and The Book of Going Forth by Day (Coverley). Lisbeth Klastrup, who organized the conference with Jesper Juul, showed methods of digital text design using her own StoryMOO, The House of Mystery. The conference closed with a view of the future (and the past): a presentation on mobile gaming with mobile phones and handheld devices by Seppo Kuivakari (University of Rovaniemi, Finland).
No longer the worrying pastime of mostly male teenagers, computer games have developed into a unique and independent form. As our communications and transactions migrate into the internet and other digital media, digital texts gain cultural clout in so-called "high" as well as in "pop" cultures, and "literature" and "games" gradually merge in interactive, procedural environments. CGDT, which will continue to convene regularly in this or a similar format, provides a forum for adequate, scholarly discussion of ludic textual phenomena. The conference's announced intention to combine different academic disciplines with approaches from business and industry provides hope for a digital literary theory that can be "made by everybody" to a greater extent than print or even film has managed in traditional universities.